Travel Fellowships Made Possible Through Planned Gift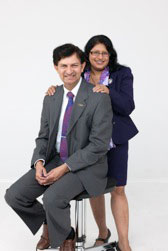 Dr. Giri Narasimhan and Dr. Kalai Mathee made a planned gift to leave a lasting legacy at FIU.
Couple's Passion for Graduate Student Success Fuels Support
Husband and wife FIU professors Dr. Giri Narasimhan and Dr. Kalai Mathee have served in various roles at FIU over the past decade and have remained strong supporters of the FIU University Graduate School (UGS). Most recently, they made a planned gift through a $75,000 life insurance policy to provide an endowment for travel fellowships for the University Graduate School.
The Kalai Mathee-Giri Narasimhan UGS Travel Fellowship will benefit doctoral students involved in biomedical and computing research.
"A travel fellowship will help graduate students to attend a conference, which they otherwise may not have been able to. For many students, attending a conference is transformative and inspiring. It can help (them) cross that critical threshold from wanting to get a Ph.D. to becoming passionate about research," says Giri, Associate Dean for Research and Graduate Studies and professor at the College of Engineering and Computing.
Mathee, professor at the Herbert Wertheim College of Medicine, who is also involved in research in molecular microbiology and infectious diseases, adds that the fellowships are "critical for networking and finding their future mentors and employers."
Much of the couple's work has been spent investing in graduate students across disciplines. Thus supporting the University Graduate School through their planned gift came naturally.
"I have come to believe that FIU can make the most impact on the quality of its 'products' by focusing on the graduate students, who are ready to leap into the job market and use their training immediately," Giri says.
"The Best They Can Be"
The couple believes their planned gift is the best way to leave a lasting legacy at FIU and to say "thank you" to the institution that believed in them.
"A few years ago, when I attended the 25th-year reunion of my graduating class at my alma mater, Indian Institute of Technology, Mumbai, I began to understand the transformative power of collective giving and the need to contribute to such a movement regardless of how insignificant one's contribution may be," Giri says.
He goes on to say "the culture of giving must start at home" and hopes that their actions will inspire others to join the ranks of the "igniters," a reference to the FIU Ignite Campaign for FIU faculty and staff.
"I have to lead by living the principles I believe in. I believe in 'paying it forward,' " Kalai says.
Yet the couple has already begun to leave their own legacy in other ways at the University. Kalai was the first founding faculty hired by the College of Medicine and received the 2011 President's Council Worlds Ahead Faculty Award as well as 2011 Mentor of The Year, which she claims was her proudest moment at FIU. Engaged in several multidisciplinary initiatives, she serves on the executive board for the FIU Program in the Study of Spirituality and curates the Reverend Dr. Martin Luther King exhibit at the Frost Art Museum. One of Giri's Ph.D. students graduated as a "Worlds Ahead Graduate" at commencement and two others won prestigious National Science Foundation Graduate Research Fellowships. Kalai's Ph.D. students went on to become Yale and Harvard post-doctoral fellows.
Kalai agrees with Giri that the students they've mentored and inspired are indeed their lasting legacy and that their roles as educators are the most satisfying.
"I think we owe it to the students to give the best that we can so that they can be the best they can be," Kalai says. "When I know I made even a small difference in their success, I am the happiest. They validate our existence. They make us want to come to work every day. I love my mentees."
Create Your Legacy
Join Dr. Giri Narasimhan and Dr. Kalai Mathee in investing in the future of FIU by making a planned gift to the University. Contact us to get started.
© Pentera, Inc. Planned giving content. All rights reserved.
Disclaimer