First-Generation Scholarship Recipient Grateful for Opportunity to Help Others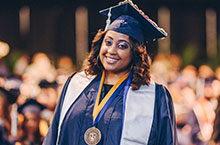 Justyce Pinkney
What are your future goals?
My previous future goals never really included graduate school. The only concern I had was making it through college just so my parents could say, through all the trials and tribulations, we had one child make it. Now, being a Ronald E. McNair student has changed my mind quite a bit. With or without graduate school my intentions for my future include helping children that come from and grow up in low socioeconomic status and adversities, including abuse, hunger, poverty, etc. I want to be able to have a facility that incorporates young children through adolescents, possibly including a high school that serves as a mentorship, safe haven, food bank, and education/career center. This comes from growing up in a low-income home. I've seen the effects that it's had on my family, and I can only imagine these children growing up in this society where you need to have it all—the shoes, the clothes, the style—but can't afford it or can afford it while at the same time sacrificing an important aspect of living.
Living in Miami, the cost of living is expensive. It's becoming more and more gentrified, and it's one of the most diverse cities in the world. While this is such a beautiful thing, being an underrepresented minority has mattered more to leaders—more than focusing on the low-income children and families. I want to be the change that helps turn these issues around to make a better and more motivated life for these children because they don't make these decisions that happen to them—their parents, organizations, and laws do, yet they are the ones to suffer.
How has this scholarship changed your life?
This scholarship has changed my life because, simply, it is me. I feel like this is a perfect representation for students like me that have or are dealing with first-generation transitions and issues all related. This scholarship has brought great joy to me in my senior year because it would help me disperse my final credits in summer and in fall without taking loans out anymore. I have saved partial for summer classes and living expenses.
This is the second consecutive summer in which I will be a Ronald E. McNair research fellow; and while this opportunity is amazing, the criteria required to be a scholar limits the ability to live and con-duct research for ten weeks. I remember last summer we had to survive off $750 for ten weeks plus an extra month. For this summer the stipend has increased; however, when you must travel back and forth to lab every day, pay for class, pay bills, and live in Miami, it becomes extremely difficult to maintain a comfortable living for two months. With this generous scholarship I can do these things without worrying like I did last summer.
What would you like to tell the donor?
I would like to tell the donors thank you—not only for this opportunity but for standing up and donat-ing funds to first-generation students striving for success. Although being a first gen has become a common pattern, being a low-income first gen, I feel, is even more pressing. Dealing with working part-time or full-time while being a full-time student becomes increasingly difficult. I have been waiting for the recognition of low-income, first-generation students for a long time, and now I feel like I have received it. Thank you so much for giving us more than the opportunity to provide financially for our education and our families but for relieving some stress from our daily lives! This is greatly appreciated!
© Pentera, Inc. Planned giving content. All rights reserved.
Disclaimer